Everyone's Grudgeedit this page
From FFXIclopedia, the free Final Fantasy XI encyclopedia
Everyone's Grudge (ability) has an identical name. If an internal link incorrectly referred you to this page, please change the link to point directly to Everyone's Grudge (ability).
[table style="width: 100%;"][tr style="vertical-align: top;"][td style="width: 70%;"]
Start NPC
Requirements
Items Needed
Title Granted
Repeatable
Reward
Magephaud - Norg (I-

Must have killed at least one Tonberry
Norg reputation level 2
before.Gold Beastcoin x 3
Honorary Doctorate, Majoring in Tonberries
Yes, see below: The Tonberry Priest.
Tonberry Key
edit Walkthrough


Talk to Magephaud. He will offer to spill the beans about the dangerous Tonberry attack Everyone's Grudge if you pay him 3 Gold Beastcoins.

Trade the Gold Beastcoins to Magephaud and he will give you the Tonberry Key.

The Tonberry Priest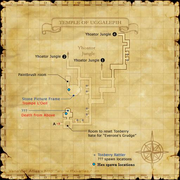 Temple of Uggalepih
This section of the quest can be repeated once you have obtained the Tonberry Key.


In the Temple of Uggalepih, open the door at (F-11).

Talking to the Tonberry Priest inside gives you the option of clearing your accumulated Tonberry rancor for a price. This minimizes the damage done by Everyone's Grudge and other Tonberry rancor-based attacks.

The amount of gil needed to clear rancor is proportionate to your earned rancor: from 250 to 6000 gil.

</li>
edit Game Description
ClientMagephaud (Next to the central staircase, Norg)
SummaryBring back three gold beastcoins if you want to learn how to rid yourself of the Tonberries' rancor.
_________________
Kennonball this you little punk arse mfer biatch: